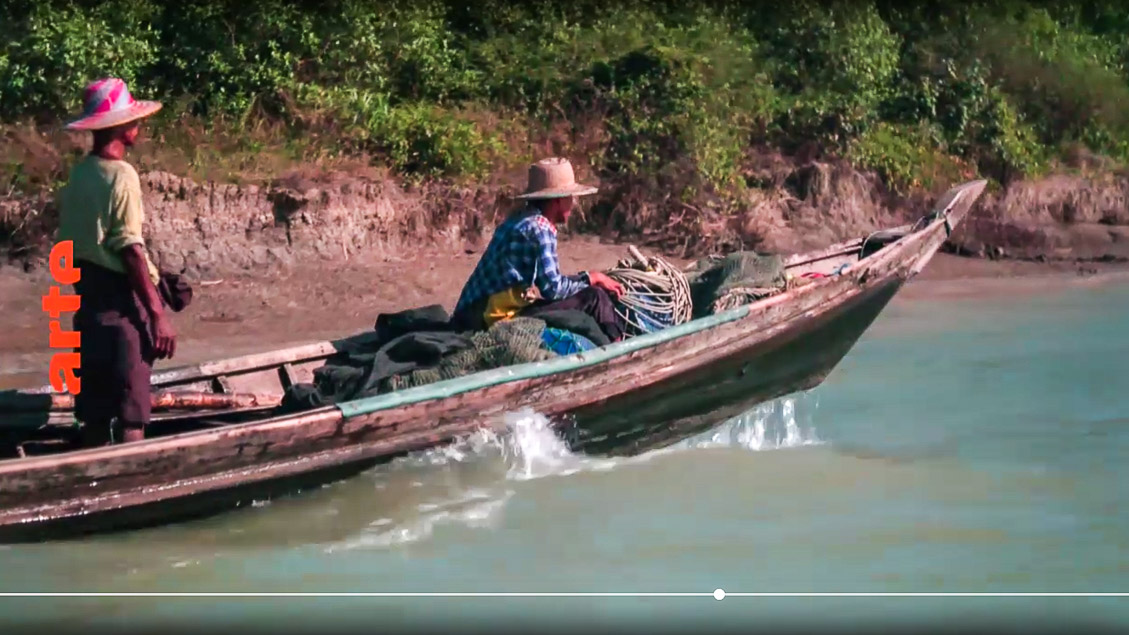 In the Irrawaddy Delta, the mangrove trees are considered sacred. Rangers and NGOs are organising the reforestation of this natural barrier against tropical cyclones, which is threatened by illegal logging. Many animal species live in the river delta, including the endangered Irrawaddy dolphin. The river is an important source of food and a main traffic route in the region.
The Irrawaddy Delta in southern Myanmar is home to the world's largest mangrove diversity. These forests form natural ramparts against the cyclones that rage the region again and again. The Irrawaddy's many ramified river arms, rich in fish, provide food for the population and are also important traffic routes for the inhabitants of the Delta. On the lower reaches of the river, the two fruit and vegetable traders U Tin Hlaing and Daw Khin Lay supply the villages with fresh produce. But they never go further than to the Meinmahla Kyun Wildlife Sanctuary, because after that the Irrawaddy becomes wilder and too dangerous for their small boat. This nature reserve is home to numerous animal species, including the rare Irrawaddy dolphin, saltwater crocodiles, birds of prey such as the black kite and the Brahmin kite, migratory birds such as the spoonbill and woodcock, cormorants and many different ducks. The ranger Lha Soe Win and his colleagues count these animals during their regular patrols and at the same time ensure that the mangrove trees are no longer illegally cleared for firewood. Since the 1970s, the mangrove population has fallen by 60%. This has dramatic consequences for the inhabitants of the delta. In 2008, cyclone Nargis, one of the most violent hurricanes ever recorded, claimed the lives of around 130,000 Burmese. Together with researchers from the NGO Flora and Fauna International, the rangers are reforesting the mangrove forests so that these salt-tolerant plants can once again play their protective role.
by Alix François Meier - ARTE Discovery, 43 Min.