Michael Grotenhoff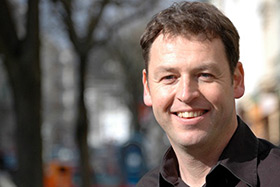 Michael Grotenhoffstudied theatre, film and television, journalism and politics.
He has always been concerned with digital developments, and so most of his films are about the digitalisation of society. He is equally comfortable with topics in the fields of environment, nature and sustainability. Michael regularly speaks at numerous international conferences on the development and production of cross-media projects. In addition, he serves on international juries, such as the Lovie Award and is a member of the German government's Cultural and Creative Industries Initiative. He is a producer and director of multiple award-winning transmedia projects and television documentaries.
Michael Grotenhoff was born in 1970 in Ahaus / Westphalia. After completing his Cinema and Audiovisual studies, he spent a year volunteering for the production company Holtzbrinck-Fernsehtochter AVE / Spektrum. Since 1998, he has worked as an author and producer for public and private television.
"Netwars/ out of CTRL" was awarded the Grimme Online Award, the Japan Award, the Italia Award and the SXSW Interactive Innovation Award.
Filmography:
Deltas - An interactive expedition
TV documentaries, 52 min., 2018, The five-part TV series is set on four different continents and shows breathtaking delta landscapes from the Arctic to the tropics. The award-winning interactive VR experience "Inside Tumucumaque" takes us right into the Amazon rainforest and lets us become part of the exotic wildlife. How do caiman, tarantula and co. perceive their surroundings?
Bauhaus Spirit
Cinema documentary, 95 min., 2018, The international cross-media project for the 100th anniversary of the legendary Bauhaus in 2019. The cinema film "Vom Bauen der Zukunft" (On Building the Future) has been in cinemas since April 2018, the interactive VR experience "Das Totale Tanz Theater" (The Total Dance Theatre) will tour renowned museums worldwide from January 2019. Also in production are an audio experience and a 360-degree video in collaboration with Einstürzende Neubauten.
Netwars / out of CTRL
TV documentary, 52 min., 2014, The internationally award-winning project has not lost its relevance to this day. The cross-media production consists of a TV documentary, interactive web documentary, three-part interactive graphic novel, a novel and an audio book series.
Conquest of the Seven Seas
Crossmedia, Game + TV documentary, The secret missions of Ferdinand Magellan and Francis Drake, TV documentary in two parts in a package with a thematically linked online game and an interactive diary.
Linking Africa
TV documentary, 52 min., 2011, A documentary about the importance of information technology for the development of Africa.